Alfa Romeo 75 Suspension Kit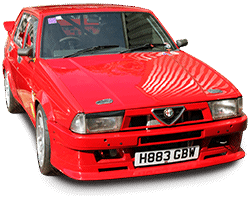 For many years CSR have developed this Alfa Romeo 75 for track day use and racing. The result is one of the quickest and best handling 75s. The suspension parts developed on this car are available to be bought as a complete kit from CSR or individual parts can be supplied.
The CSR Suspension Kits consists of:
Anti Roll Bar
Rear Springs – to CSRs specification
Spring Seats
Top Suspension Arm – complete with new top arm pin
Front Springs
Front and Rear Shock Absorbers – to CSRs specification
The benefits of this kit for your Alfa 75
The kit can be fitted by a competent home mechanic or CSR can supply and fit the kit to your car. The benefits of the kit over the standard suspension are the car will have better turn in and control,through the whole corner. This kit will transform the cars handling.
Call us for details: 01243 572242