Alfa Romeo GTV6 Race Car Build
Lella Lombardi Jolly Club Replica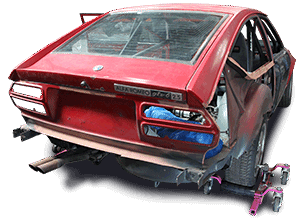 CSR built this Alfa Romeo GTV6 raced, at the 72nd Members Meeting at Goodwood, by Chris Snowdon and ex formula 1 driver Rupert Keegan.
The was built into a Group 1 1981/2 copy of the car built by the Jolly Club team for Lella Lombardi. The car later became the John West Salmon GTV6 raced in the British Saloon Car Championship.
The original car was a class winner in the hands of Ron Kirby in 1985 and later achieved outright championship wins in the 1994 and 1995 Alfa Romeo Championship with CSR's Chris Snowdon at the wheel.
CSR are situated just outside of Chichester in West Sussex.
Call us on: 01243 572242